Quest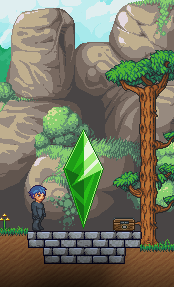 The Quest Giver is a Green Crystal on your spawn, it also tells the basics of the game. The last quest includes saving a Chloridian from an underground prison.
Resources 1 - Chest
Resources 2 - Pickaxe
Resources 3 - Axe
Crafts 1
Crafts 2
Building 1
Crafts 3
Skills
Runes
Agriculture 1
Farming
Alchemy
Magic
Capture
Transformation
Free the Chloridians!